Telling the tales of all things creepy, cryptid, and otherworldly. Hosted by Paranormal researcher, author and host of the TV shows Oddity Files and Paranormal Crossroad Kitsie Duncan, and paranormal enthusiast Nick Floyd. They bring you creepy and weird stories, but bring enough laughs in so you can still sleep with the lights off.
Episodes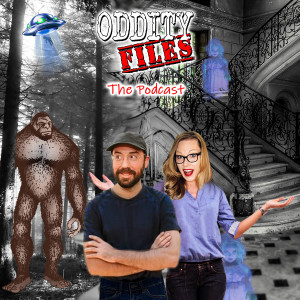 Friday Oct 22, 2021
Friday Oct 22, 2021
Well hello again weirdos this week has got all the goodies.  Tell your friends to give us a listen, it's that time of year when everyone loves all things spooky.
Find out all the crazy paranormal things that happened at the Paranormal X Road event at the Athenaeum Indy last weekend.  If you weren't there you really missed out.
Paranormal in the news has a Florida man who captured some sort of activity on his ring door bell.
Nick tells us all about the story of Stanely Steers, who lived an awful life and in turn may or may not have been the inspiration for Michael Meyers.
Kitsie jumps in with the Story of the Ohio Grassman, and all the amazing signings over the years.
Be sure to check out our new show partners www.tinyurl.com/dotandbopromo 
and
We have an updated listener story from friend of the show Evan Scott who was recently on an episode of Paranormal Crossroad, you can watch his two shows 'static man' and 'he's scared' at www.youtube.com/c/paranormalXroad bring the tissues!